Ray White Mt Eden celebrated an 'hour of power' last night as five properties sent to auction successfully sold under the hammer for a combined total value of more than $11 million.
 
Innovative internal data for Australasia's leading property group shows it has been an incredible start to the year for the office, with 92.5 per cent of homes selling via their auction campaign.
 
"The team's skill-set is again proven by the continued strength of their results. With competitive bidding and vendors having confidence in the process, auction is still leading the way to achieve great results," said Ray White Mt Eden Director Jared Cooksley.
 
The absolute stand-out auction of the night belonged to Salespeople John Covich and Rachel Berry as they sold 18 Allendale Road (above) in Mt Albert for $3.5 million – $1.02 million over CV.
 
"A pre-sale off-market campaign with a number of qualified buyers was attempted prior to getting the property market-ready," Ms Berry said.
"Despite our recommendations to the contrary, it was the wishes of the vendor to market the property this way. This method did not result in an acceptable level of interest or price.
 
"We provided advice, tradespeople and direction for presenting the house, and this resulted in a highly successful campaign with 69 groups inspecting over the three weeks, before attracting four registered buyers on the night, with three active, and a sale price 47 per cent over CV.
 
"Our auction process, together with a comprehensive marketing campaign, has proven once again that it consistently delivers a premium sale price for our vendors. Our team continues to have a 100 per cent clearance rate."
 
Ray White New Zealand Lead Auctioneer John Bowring (above), who successfully called all five of the auctions, praised the Mt Eden team for delivering such outstanding results.
 
"The auctions were just electric. It was an amazing display from the Mt Eden agents; their ability to trust the process and carry this out is nothing short of world-class," Mr Bowring said.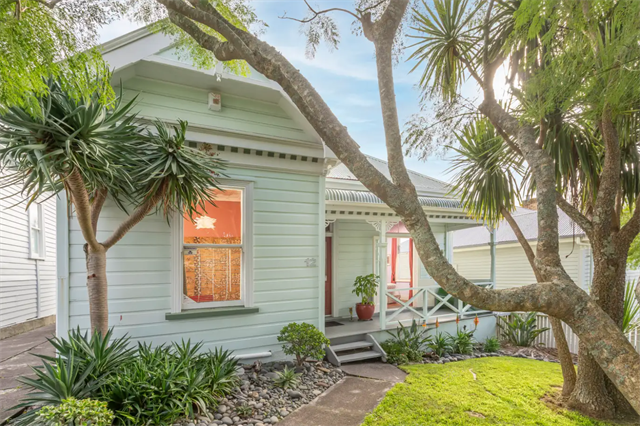 It was then the turn of Salespeople Robyn Ellson and Josh Powell as they successfully managed the $2.05 million sale of Kingsland's 12 Kingsland Avenue (above).
 
"We had 60 groups through during our three-week campaign, culminating in eight registered buyers. Five bidders actively battled it out with the eventual price achieving a new record price for a two-bedroom home in Kingsland," Ms Ellson said.
 
"It was a huge privilege to market this home, a property the owners had lived in for 30 years. To get them the result we did is something we're really proud of."
 
Ms Ellson also sold two further homes with fellow salesperson Nic Blackie, continuing the team's 100 per cent auction success rate for 2021.