Auckland's CBD has taken a hit throughout the pandemic as forced reduction of mobility, working and studying from home, closed borders, and a desire for more space have all contributed to the creation of a new suburban age.
Ray White chief economist Nerida Conisbee said the pandemic had had a clear negative impact on Auckland's city centre.
"Office vacancy rates in Auckland are now at the highest level in over a decade and will continue to climb as the fallout from fewer people in the office continues," Ms Conisbee said.
"Retail vacancy is also increasing and currently one in ten shops are vacant.
"While residential rents are rising everywhere in New Zealand, it is not the case in Auckland city centre where high levels of building activity and low levels of demand have resulted in falling rents.
"The longer lockdowns and forced working from home continue, the longer it will take for the city centre to recover."
Ms Conisbee said the suburbs were seeing huge growth not seen since inner-urban living became popular late last century.
"We have seen very strong conditions in the suburbs, coming at the expense of our inner urban areas," she said.
"Many retail strips that were previously seeing low levels of foot traffic have become active again.
"Suburban office markets have done better in maintaining tenants than in the city centre.
"As people are no longer so restricted to live close to where they work and being locked down a lot puts a higher price on space, house prices in outer suburban areas that have typically underperformed inner areas, have accelerated more quickly than inner areas."
To calculate how much Covid has made suburban living more desirable, Ms Conisbee compared median prices in Auckland's outer suburban areas compared to inner urban areas.
While house prices within 0-5km of Auckland's city centre have increased 18.8 per cent since Covid started, houses 5-15km from the CBD have seen price increases of 23.6 percent, and prices for houses more than 15km from the CBD have seen price increases of 23.7 per cent.
Located approximately 12km from the Auckland CBD, the suburb of Penrose saw the highest increase in median house price since the pandemic started, sitting at 90.4 per cent.
The median pre-covid house price in Penrose was $709,971 increasing to $1,351,887 post-covid.
The suburb of Redvale experienced the next highest increase in median house price since the pandemic started, jumping up by 89.2 per cent.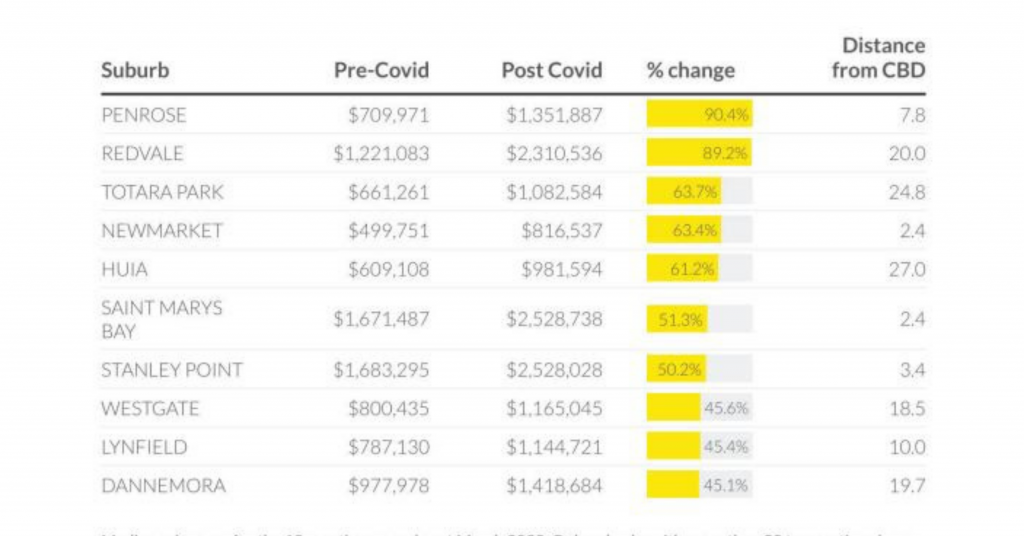 While Ray White Royal Oak agent James Burry said Penrose itself was mostly industrial, neighbouring suburb Onehunga had shown huge growth throughout the pandemic.
"Values have definitely gone up during that time period and demand has gotten stronger and stronger," Mr Burry said.
"There's not many apartment blocks, it's predominantly single-level and two-storey homes with lots of parks in the area.
"It's also the most southern of the central suburbs, so you don't feel as contained and confined as some of the central suburbs.
"If you're not able to leave your property during lockdown, having more space would certainly make you more comfortable.
"So those kinds of properties where you have your own garden and access to lots of parks would be very attractive throughout the pandemic."
While Onehunga traditionally has been primarily working class, with people using homes in the area as stepping stones, Mr Burry said he had noticed a trend of a wider variety of people appreciating the charm and appeal of the suburb, and purchasing to stay in the area; particularly over the past two years.
"Areas like Onehunga were springboards to get to more central suburbs like Mt Eden or Epsom, but we're finding now people are staying more within the area and buying houses which are bigger.
"It's become more of a destination than a stepping stone.
"We've had every type of person try to buy here, whereas historically it was young families and first home buyers, now we have people choosing to retire in the area."
While a lot of what attracted people to the inner-urban lifestyle has been unavailable throughout the pandemic, such as restaurants, art galleries, nightlife and sporting events, Ms Conisbee said once these aspects returned, it was likely inner-urban populations would increase.
"Our suburbs have had a COVID induced boost, but it certainly isn't the end of our inner cities," she said.