While Ray White Whangarei's open home numbers continue to rise off the back of a regional listing shortage, it would seem some properties are getting a little more attention than others.
Ray White Whangarei and Tutukaka, which conducted 274 auctions in the past two months with a sales success rate of 95 percent, has seen a dramatic increase in interest for high-end, unique, homes. 
"While demand for residential properties has been rising for some time in our district, the most notable rises are for unique, one-off, type properties and also interestingly those at the higher end of the market too" Ray White Whangarei and Tutukaka co-director Allan Sykes said.
"We are proud to have achieved a 100 percent sales success rate for our July auctions, with all 17 properties up for auction in the month having now sold – 95 percent under the hammer.
"Auctions continue to be one of the best and fairest ways to sell a home in the current market."
One recent property located at 21 John McGilll Place in Whau Valley, an architecturally designed modernist home from the 1960s, showed a notable upsurge in interest.
With over 63,499 online views (and over 490 watchers on TradeMe alone) the property went up for sale by auction on July 14, 2021, selling for $800,000.
The home, originally built by architect Robert B Finch in 1968, was later purchased by Minda Ross' vendors, Mr. and Mrs. Geddes, when they moved to Whangarei from their farm in 1993.
They were in their 70s at the time and Mrs. Geddes only requirement was to fulfill her dream of owning a unique and architecturally designed home. 
Mr. Geddes lived in the home until he was 98, then moved to a home where he celebrated his 100th birthday before he passed away.
Ray White Whangarei salesperson Minda Ross said the dramatic skylight and stained glass feature in the atrium set the tone for the extraordinary 1960s home.
She said the distinctive aesthetic was demonstrated with the open plan kitchen, dining, and sunken lounge, maximising the natural light, soft neutral tones, and timber accents that connect with the outside spaces.
"Interest surged early on this home, with 70 percent of the registered bidders viewing during the first week on the market," Ms. Ross said. 
"We had over 209 open home attendees, including private inspections, with many buyers coming back for a third, fourth – even up to eight inspections.
"We had several pre-auction offers ranging from $500,000 to $729,000, with a strong conditional offer subject to a house sale waiting to be presented if the property did not sell under the hammer."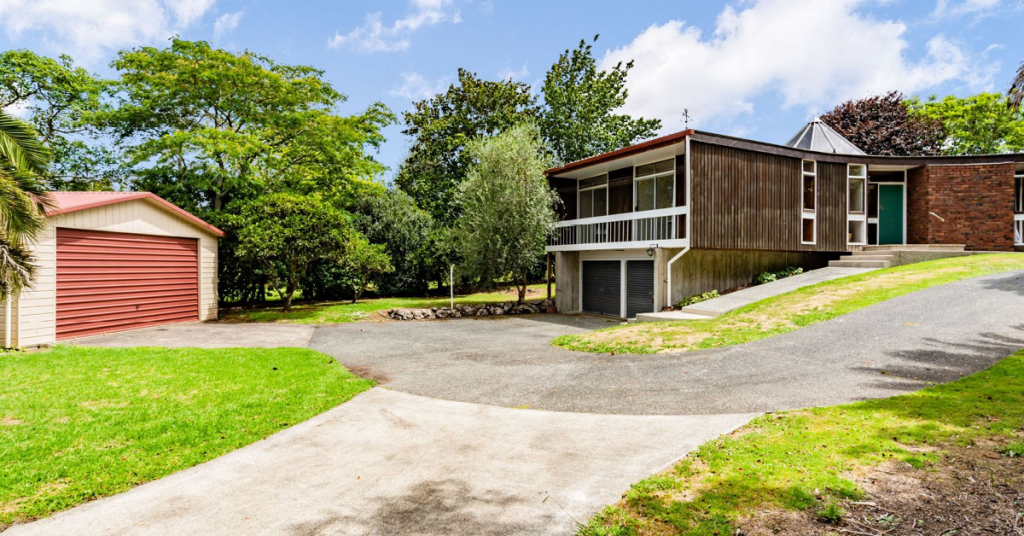 Ms Ross said despite the home needing some maintenance due to its age, it was very popular with buyers.
"It was quite noticeable that when they entered, they just smiled, they all commented that the home has such a positive vibe," she said.
"The impressive glass dome skylight and stained glass feature at the atrium dominates the entrance and the amazing Y-shape of the home and curved walls is absolutely unique."
There were 11 registered bidders on the day, resulting in 16 bids for the property and a sale well above the pre-auction offers received.
"Across New Zealand, Ray White New Zealand's vendors who proceeded to take their property to auction were rewarded with a sale price 9.4 percent higher than the best offer prior last week – and this sale yielded a result for our vendor which was even higher than that!" Mr. Sykes said. 
The winning bidders were a young couple from Wellington, returning home to Whangarei to start a new business in the future.
Ms. Ross said the couple's parents viewed on their behalf and did a video walk-through with them.  
"They instantly loved it and came up from Wellington to view it and loved it even more after viewing it themselves," she said.
"They are over the moon with the purchase of their dream home."