Throughout New Zealand's level 4 lockdown, Ray White re-launched its virtual training platform featuring 69 guest speakers.
Running from August 23 to September 20, the training was well attended by members with more than 9500 people tuning in to virtual training sessions.
In partnership with the Ronald McDonald House Charities, Ray White members were delighted to hear Steve Williams' story.
Originally from Wellington, Mr Williams is best known for being Tiger Wood's caddie from 1999 to 2011. Woods was the number one golfer in the world during that time.  
Having a 2 handicap at the age of 13 he went on to caddie for almost all pro golfers in the 1980s.
Steve graciously shared his story in a Q&A session hosted by Ray White New Zealand, CEO Carey Smith.
Ray White New Zealand is proud of their partnership with Ronald McDonald House Charities and also had the privilege of hearing from its CEO, Wayne Howett.
Hosted by Ray White New Zealand head of marketing Larissa Tuhaka, Mr Howett expressed compassion as he shared how Ronald McDonald House operates during lockdown.
Proud White family members Brian White (chairman) and Dan White (managing director) of the Ray White Group shared their leadership insights, decision making, and family business in two separate sessions hosted by Carey Smith. 
Long-standing mentor for Ray White members, Mark Mcleod, CEO of Growth for the Ray White Group, hosted sessions throughout the program. 
Mark has a depth of skills and understanding in delivering structure and processes and his direction has led to tangible rewards for our businesses.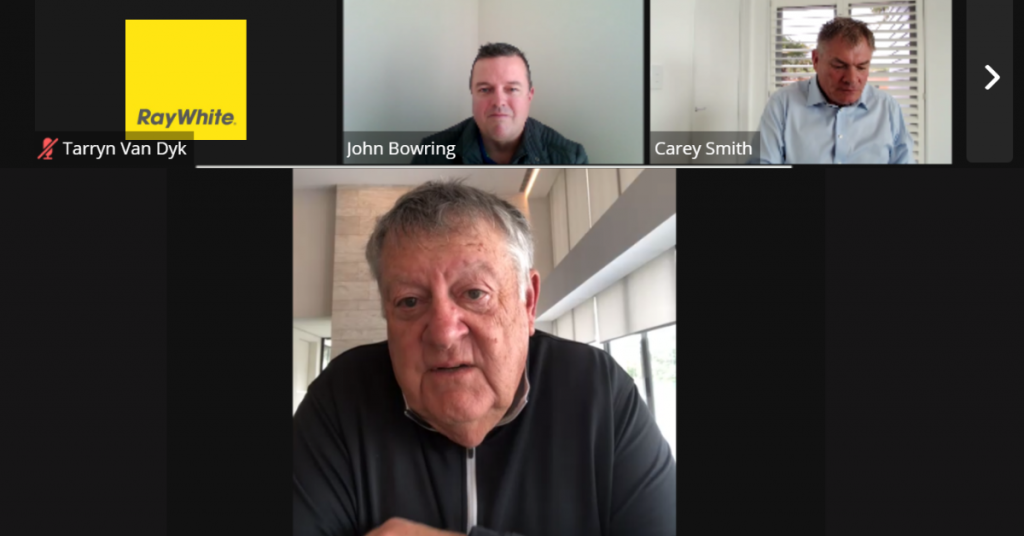 Other inspiring guest speakers included Golf Warehouse CEO Eric Faesenkloet, Briscoes and Rebel Sport CEO Rod Duke (pictured above), 38th prime minister of New Zealand Sir John Key, renowned industry speakers Josh Phegan and Tom Panos, ASB Economist Chris Tennent-Brown, and independent economist Tony Alexander. Rugby union coach Sir Graham Henry presented exclusively for the Ray White business owners in support of the Plunket Foundation Trust National Lottery.
Some of Ray White New Zealand's top business leaders generously gave their insights on various sessions including Ray White Remuera owner Megan Jaffe, Ray White Howick owner Anton Huang, Ray White Ponsonby owner Gower Buchanan, Ray White Gisborne owner Shelley Donaldson, Ray White Manukau owner Adam Thomson, and Ray White Manurewa owner Tom Rawson.
"The virtual training program has been a great way to stay motivated and connected," Ray White Sandringham agent Alastair Hubbard said.
"It was inspiring to hear how some of our top-performing salespeople and business owners have created their success." 
As a new agent, Glen Thompson from Ray White Richmond said having access to so much motivational content was invaluable.
"The breadth of topics and quality of speakers helped to give me knowledgeable insights, of which quite a few I have added to my daily tasks," Mr Thompson said.
"Hearing the success stories of top performers and what their focuses are, gives you confidence that you're doing the right thing and have chosen the right career!" 
Ray White New Zealand training manager Ben East and Lead Auctioneer Sam Steele, hosted sessions with Jared Hards from Ray White Mangere Bridge and Tim Hawes from Ray White Kingsland, both top performers.
"It was a privilege to be part of our virtual platform hosting daily sessions for our network members," Mr East said.
"Most sessions were informal and interactive ensuring we all stayed well connected throughout the lockdown."
In support of Māori language week (September 13-19), husband of Ray White New Zealand's Head of Marketing Larissa Tuhaka, actor and director Te Kohe Tuhaka, presented a session on Te Reo Māori. With passion and enthusiasm, Mr Tuhaka's lessons included a basic understanding of the language and the importance of pronunciation. 
The national property management network enjoyed over a dozen online training sessions throughout.
Spearheaded by Ray White New Zealand head of property management Zac Snelling, the training covered a variety of process-driven learnings and technology-based platforms to continue streamlining the work that Ray White property managers undertake.
Ray White Co-Lab Property Management director Hamish Harrison said the virtual training for property managers throughout lockdown was second to none.
"I know many property managers with other companies who've said they received nothing like this, and I'm proud to be a part of a network that can pivot at such speed to organise this level of quality content to help keep us busy during the lockdown," Mr Harrison said.
"I've managed to update a number of my processes off the back of these sessions and my clients are already giving great feedback to these changes – thank you, Ray White!"
Guest speakers full list:
Keynotes:
Chris Tennent-Brown, ASB Economist
David Nottage, presentations
Eric Faesenkloet, CEO Golf Warehouse
Hamish Bond, New Zealand rower. Three-time Olympic gold medallist
Josh Phegan, world-renowned industry speaker
Lisa O'Neil, inspiring Australasia keynote speaker and MC
Mark Brown, Canterbury Rugby Co-Coach
Reuben Thorne, Canterbury Rugby Co-Coach
Rod Duke, Briscoes, and Rebel Sport CEO
Sandy Hall, Resilience Institute
Simon Cohen, founder of Cohen Handler, the largest property buyers agency in Australia and also one of the stars of Amazon Prime's Luxe Listings Sydney
Sir Graham Henry, New Zealand rugby union coach, and former head coach of the country's national team, the All Blacks
Sir John Key, New Zealand retired politician who served as the 38th prime minister of New Zealand from 2008 to 2016
Steve Williams, Pro Golfer Caddie
Te Kohe Tuhaka, Actor and Director
Terry Williamson, Canterbury Rugby Team Manager
Tom Panos, Internationally renowned speaker, trainer and coach
Tony Alexander, Independent Economist
Wayne Howett, CEO Ronald McDonald House Charities
Ray White Group:
Adam Thomson, Ray White Manukau
Angela Saunders, Ray White Ponsonby
Angus Mead, Ray White Group
Anton Huang, Ray White Howick
Ben Stevens, Ray White Wellington City
Brian White, Ray White Group
Dan White, Ray White Group
Daniel Horrobin, Ray White City Apartments
Gower Buchanan, Ray White Ponsonby
Habeeb Urrahman, Ray White City Apartments
Holly Jones, Ray White New Brighton
Jared Hards, Ray White Mangere Bridge
Josh Tesolin, Ray White Quakers Hill
Mark Mcleod, CEO of Growth for the Ray White Group
Matt Gibson, Ray White Remuera
Megan Jaffe, Ray White Remuera
Nat Hortz, Ray White Group
Nerida Conisbee, Ray White Group
Rebecca Green, Ray White Group
Rebeeca Toone, Ray White Metro
Robyn Ellson, Ray White Mt Eden
Shelley Donaldson, Ray White Gisborne
Tim Hawes, Ray White Kingsland
Tim Snell, Ray White Group
Tom Rawson, Ray White Manukau
Ray White Partners/Suppliers
Ali Al-Shakarchi, Tapi
Alice Tregunna, TICco
Amanda Savill, Loan Market
Amy Drinkwater, Campaigntrack
Ange Sutton, Palace
Ben Hawkey, Real Growth
Chase Koolen, TradeMe Property
Holly Strever, ABC Photosigns
Joanne Rae, Real Estate Institute of New Zealand (REINZ)
Joseph Beveridge, Designly
Kurt Smith, Total Tenancy Services
Louise DuPont, Realestate.co.nz
Mandy Welch, Palace
Rishi V Ankus, OneRoof
Rosie Davey-Hicks, Palace
Stefan Williams, Campaigntrack
Ray White New Zealand
Andy Ebbett, Finance Analyst
Ben East, Training Manager
Carey Smith, CEO
Daniel Coulson, COO
Emma Craig, Digital Manager
Larissa Tuhaka, Head of Marketing
Sam Steele, Lead Auctioneer
Treena Drinnan, CAO
Zac Snelling, Head of Property Management