Built by legendary architect Sir Ian Athfield, a stunning six-bedroom, three-bathroom home in Seatoun is up for sale.
Located at 93 Tio Tio Road, the property is for sale via tender, buyers with budgets of over $2 million are encouraged to view.
Ray White Kilbirnie listing agent Eva Dugaro said Athfield's tend to be tightly-held and rarely come to market, so this family home on popular Tio Tio Road would be sure to attract a lot of attention.
"Built in the 1980s, the home features many trademarks of Athfield's distinctive style – a steeply pitched roof and beamed ceilings, extensive use of glass to maximise light, and timber weatherboards. Meanwhile, his signature porthole windows add an extra touch of character," Ms Dugaro said.
"This celebrated architect was an early adopter of sustainable construction – in techniques and materials – and indoor-outdoor flow was an important consideration in his designs. Thus, 93 Tio Tio Road has no less than five different outdoor living spaces, including a large deck.
"Elevated homes in trendy Seatoun always sell quickly and this very special property enjoys easy access to the beach and the village.
"It goes without saying that the panoramic views are spectacular – sweeping across the harbour.
"With summer just around the corner, this is the perfect home for family fun with its multiple decks and patios, plus lawn space for children and pets."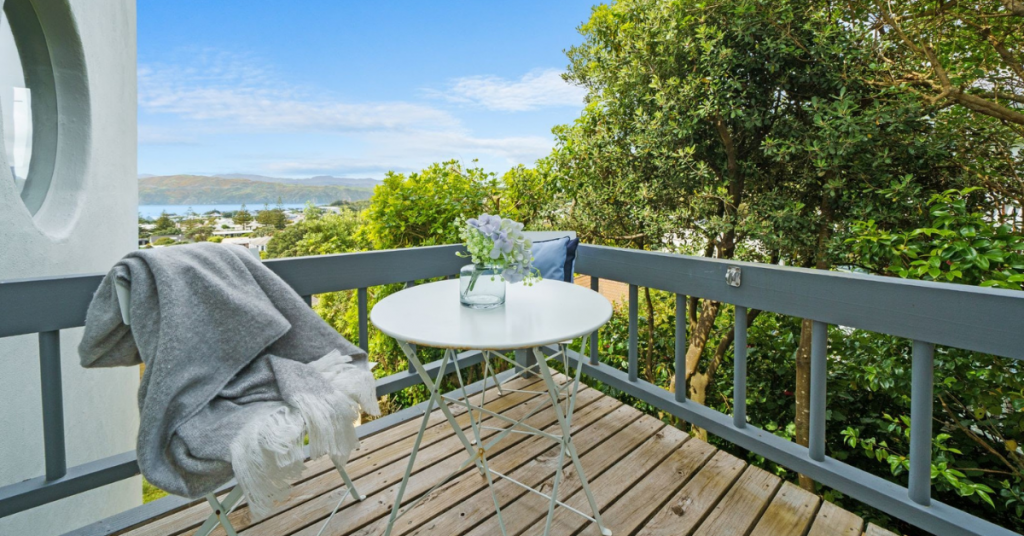 After living in the home with her partner and two children for the past four years, vendor Laura Shaffer said they had decided to sell as they were moving back to the US to be closer to their family, and for work.
She said her family were initially attracted to the home for the views, location and sun.
Dr Shaffer said they had put a lot of effort into renovating the home and making it more modern and family friendly.
"We really focused on bringing the home back to life," she said.
"When we bought it it felt tired, dated, and not maximised.
"There were places that felt uninviting because there had been no renovations since it was first built, so we've made the place modern and more usable.
"We definitely put our energy into making it more of a family home. When we first moved in, it didn't feel suitable for families.
"So we've done things to make things safer and feel more family friendly including adding an extra bedroom and fencing in the backyard.
"I would say now it's definitely a family home and everyone has a place to go to and have a space that's their own."
The property is for sale via tender closing at 2pm on November 18.